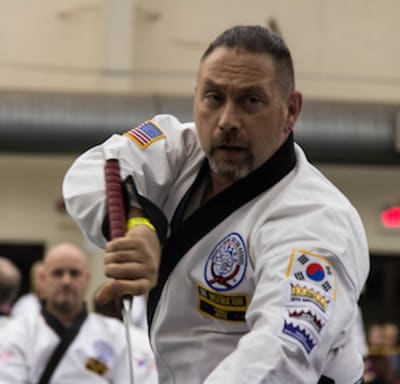 Master Michael Albero
Mr. Albero began training at the Korean Martial Arts Institute under the tutelage of Master Geoff Setyanto and Master Annaliza Setyanto. Michael started his martial arts journey in 2004. He was a parent who soon realized this was a great opportunity to spend quaily time with his son. He currently holds a 4th-degree Masters belt in Tang Soo Do and a 3rd-Degree black belt in Sin Moo Hap Ki Do. Master Albero purchased the karate school in March of 2019 under the new name Hidden Gem Martial Arts.
Mr. Albero is passionate about teaching his students but also knows that learning is never complete at any level and instills this lesson with all of his students. Micheal's favorite thing about being an instructor is witnessing students overcome challenges and achieving personal understanding through their martial arts training. One of his greatest accomplishments was winning the 2015 Regional Senior Cup in Tang Soo Do.